Lineman Appreciation Day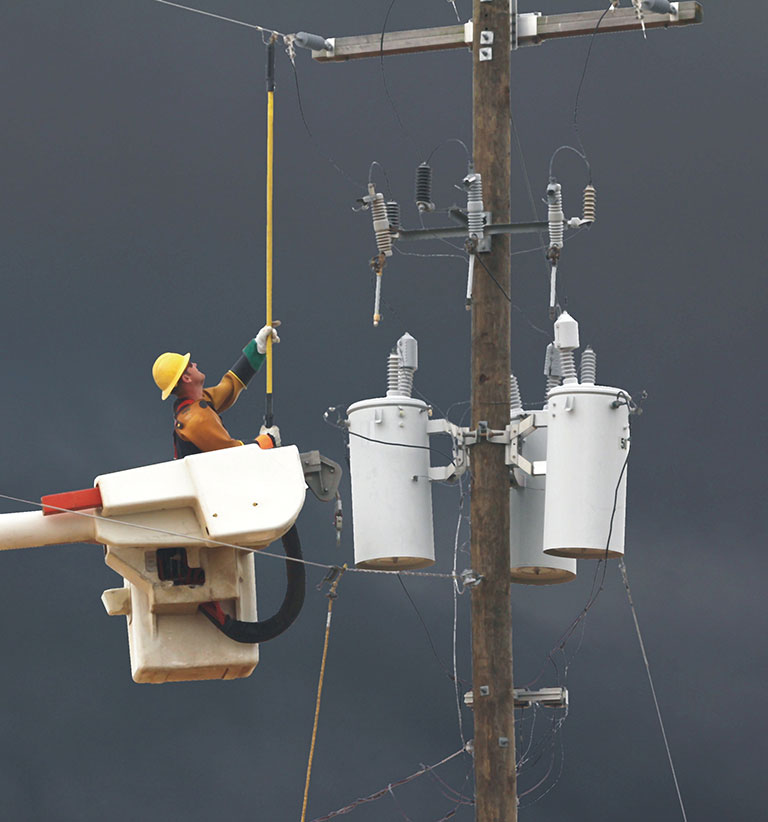 GOT POWER? THANK a LINEMAN
A day to celebrate workers who join a "brotherhood" rather than a profession.
Electric membership corporations in Georgia, including Washington EMC, are joining forces on April 8 to celebrate Lineman Appreciation Day where they will pay tribute to line workers across the state.
The work of linemen is important 24 hours a day, 365 days a year, but the tornado outbreak and super storms which slammed Alabama and Georgia just a few weeks ago are two recent reminders of the critical need for these highly-skilled professionals. Restoring electricity in the severely damaged areas helped customers regain some sense of normalcy in a world that forever changed for them.
"No matter what Mother Nature throws our way, all EMC employees, and particularly linemen, will deploy at a moment's notice to help our members and community and restore what has become a vital service that we all depend on," says Wendy Sellers, President & CEO, with Washington EMC.
Even today, painful memories linger for those impacted by Hurricane Michael which slammed Georgia as a category 3 hurricane last fall and caused unprecedented damage in south and southwest Georgia. It would become the largest and most destructive outage event in the state's history. Representatives warned that it could take up to five weeks in the most heavily damaged areas before full restoration was complete. However, linemen from across Georgia and across the country descended upon the state and worked non-stop to complete restoration in just over two weeks.
For these and other extraordinary efforts, the April 8 celebration is the fourth annual Lineman Appreciation observance in Georgia and accompanies two companion resolutions introduced this year in both the Georgia State House and Senate:
HR 622 sponsored by Representative Don Parsons (R-Marietta) and others –
http://www.legis.ga.gov/Legislation/20192020/185463.pdf
SR 441 sponsored by Senator Bill Cowsert (R- Athens) –
http://www.legis.ga.gov/Legislation/20192020/185714.pdf
Lineman License Plate
To honor their service and contributions--not only in their respective EMC service areas but in other parts of the state and region when they are called to help-- lawmakers and other business leaders passed legislation in 2017 which provides for a specialty license plate honoring Georgia's utility line workers. It was sponsored in the Georgia House of Representatives by Rep. Alan Powell (R-Hartwell), carried in the Senate by Sen. Steve Gooch (R-Dahlonega) and signed into law by former Gov. Nathan Deal.
Proceeds from the sale of "Thank a Lineman" license plates benefit the Southeastern Firefighters Burn Foundation (SFBF) which provides assistance to burn patients and their families at the Joseph M. Still Burn Center at Doctors Hospital in Augusta. To purchase, Georgians should visit https://www.burnfoundation.net/Thank-A-Lineman-License-Plate when renewing their annual motor vehicle registration.
Protecting a Precious Asset
The work of linemen has become so important that business leaders, EMC members and lawmakers in Georgia provided additional protection for utility line workers through passage of a bill which requires any motorist approaching utility linemen at an active work site, as indicated by traffic cones or flashing yellow, amber, white or red lights, to change lanes or reduce their speed to a reasonable and proper speed below the posted speed limit.
Any motorist who does not change lanes or drop his/her speed to avoid utility workers can be fined up to $250 per incident. The law applies to all types of utility workers, including electric, natural gas, cable and telecommunications workers, right-of-way crews or utility contractors.
#ThankALineman
On April 8, Washington EMC is calling upon members and the community to express thanks and appreciation by sending a message to line workers using the hash tag #ThankALineman.